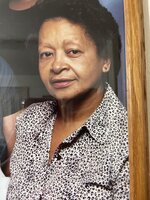 Sonia Maritza Padilla
Sonia Martiza Padilla 68, of Hoboken NJ, passed away on January 6th after a battle with Dementia
Sonia Padilla was born on August 20, 1953 to Delfin Vasquez Padilla and Basilisa Maldonado in Bayamon, PR. She attended Brandt Elementary School in Hoboken NJ. She held jobs as a pageant director, dental assistant and a nanny.
After retiring in 2017, Sonia spent her time shopping, walking and spoiling her grandson as much as possible.
Sonia Martiza Padilla is predeceased by her parents. She is survived by her daughters Baleria Franqui, her grandson Frank E. Sanchez Jr., and her youngest daughter Jessica Del Valle Jordan, her sister Carmen Gloria LeBron, brother in law Ricardo LeBron and nephew Omar LeBron.
Her family will receive relatives and friends for visitation at the funeral home Tuesday, January 11, 2022 from 10:00 AM to 11:45 Noon. A Roman Catholic Blessing Service will be offered at the funeral home Tuesday, January 11, 2022 at 11:45 AM. Interment will follow at Holy Name Cemetery in Jersey City, New Jersey